Art and the Matriarchy - How creatives are influencing the way we think about motherhood
** Warning: contains a tiny spoiler about May's Edition of Poems by Post! **
Here at Poems by Post we type out a new poem every month on a typewriter. It's nice to type out poems every morning! You get in the swing of it, you play some groovy tunes in the background… and reading this poem over and over, I see something new in it each time; feel something different each time.
However this morning was different: it's a new poem. I wound a fresh sheet of paper into its place on Erika the typewriter, I slid the carriage all the way to the right, and I started reading. And I start to feel a bubble rise in my chest, a knot in my stomach, tears in my eyes, as the poem features a little girl and her mum.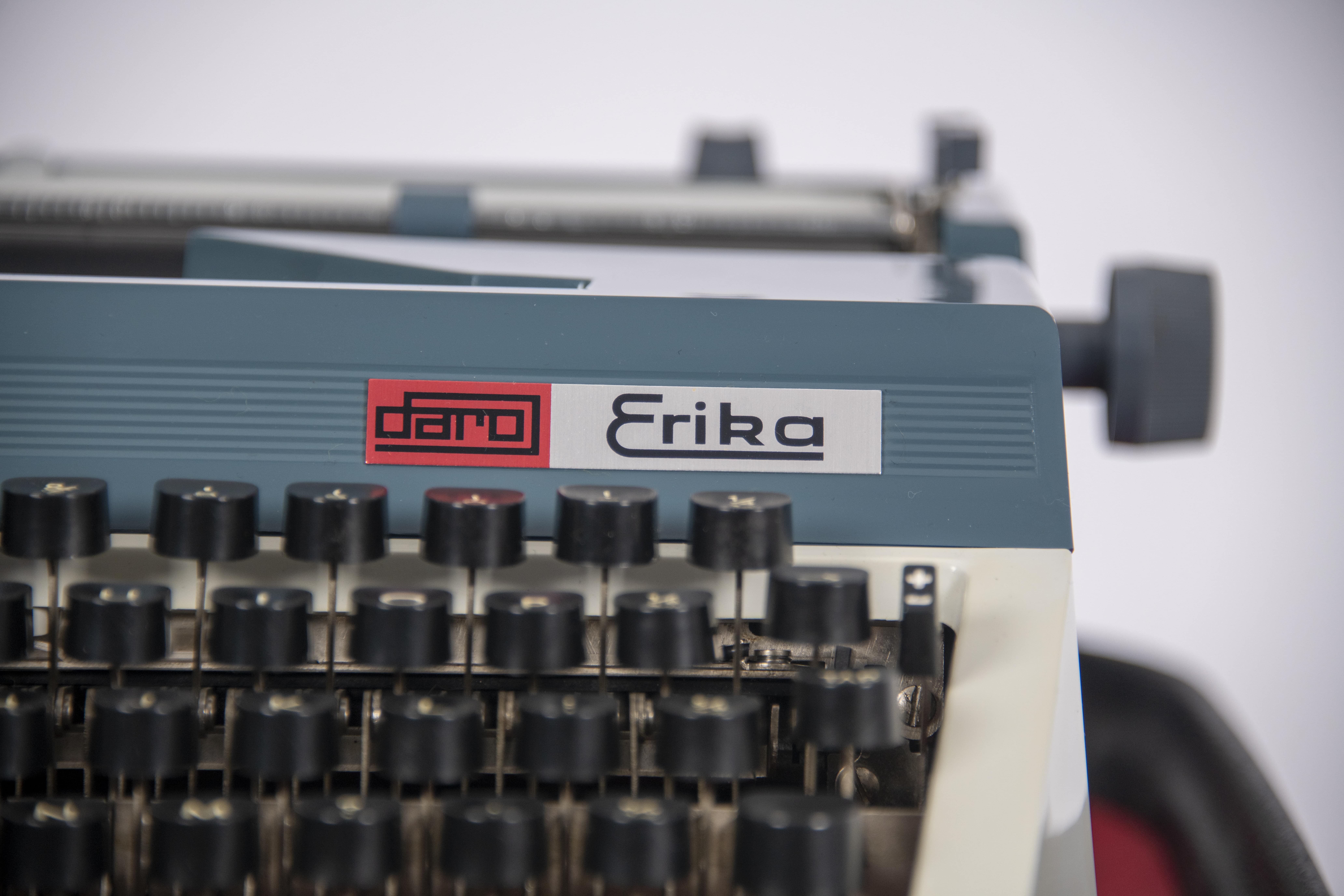 Erika, our tame typewriter. Isn't she lovely? Photo by Nick Ford
Motherhood has always been a prominent symbol in art. The image of mother and child traditionally stands as a symbol of fertility and humanity. Historically mothers depicted in art have stood to embody redemption, protection and forgiveness¹. However the sad thing is that most famous examples weren't painted by mothers - or even by women at all for that matter.
Maternity touches every one of us as least one in our lives, and yet in most spheres of the world it remains under-researched, under-appreciated, and even taboo² (If you want to read more about this gender data gap I highly recommend the book Invisible Women by Caroline Criado-Perez).
So, to celebrate Mothers' Day we thought we would introduce you to a little smattering of inspiring artists who are changing the way people view and speak about motherhood, helping to ensure mothers everywhere get the recognition, representation and respect that they so rightfully deserve. Because hey, turns out that sh*t ain't easy!
Pregnancy Nudes
Let's start this with where we all started: pregnancy. Alice Neel can be argued to be one of the greatest portrait artists of the 20th century. She was known for her portraits, but most excitingly (in our opinion) her expressionistic depictions of women. Her approach was refreshing because it illustrated women through a female gaze, women in her paintings seemed to challenge the traditional nude depictions of women, and would glare right back into the face of objectification³. Many of these such portraits were considered controversial at the time, and are now praised for their honesty as they challenge traditional ideas of femininity.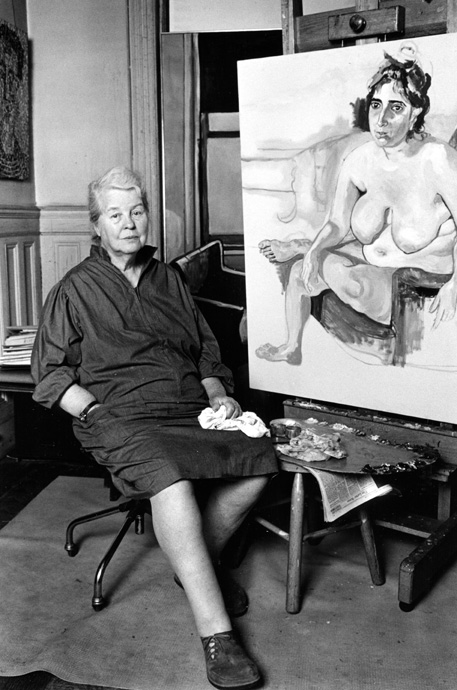 Alice Neel in her studio. Photo by Lynn Gilbert
One such group Neel chose to paint were ordinary women, women you see all around you, but didn't often see in art - pregnant women.
In these pregnant female nudes, Neel highlights not only the truthful physical changes experienced, but also expresses the emotional anxieties that come hand in hand with childbirth. In her own words she "feel[s] as a subject it's perfectly legitimate, and people out of a false modesty, or being sissies, never show it, but it is a basic fact of life."⁴

Spider Woman
Now, think of your mother, is your next thought that immediately follows that of a spider? Me neither. In fact my mum would probably be pretty upset about the comparison because she is more than a little afraid of our 8-legged friends. However this is not the case for artist Louise Bourgeois.
For anyone at the Qatar National Convention Center in 2000, you will have been treated to a giant, bronze, 8 legged, 9 odd meters tall, spider sculpture. Named Maman, this gigantic work of art would later be installed in numerous other locations around the world with 6 additional sculptures added.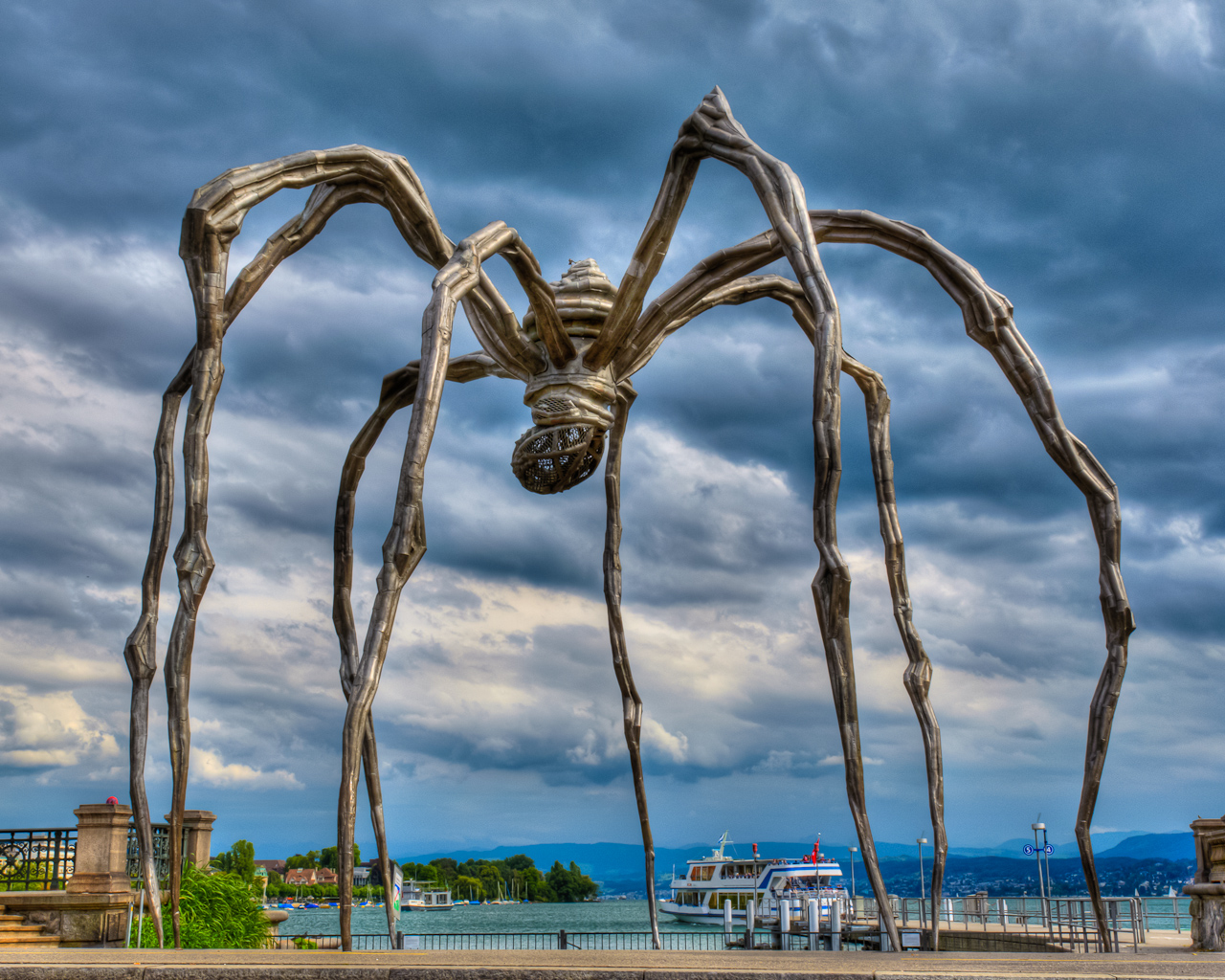 Maman by Louise Bourgeois in Zurich, Switzerland
Bourgeois spoke about the symbol of a spider, and how it alluded to the strength, helpfulness and protectiveness of her mother. These sculptures really are immensely impressive, and honestly if we could have half of the strength and protectiveness that our mothers have, I would be proud.
So happy Mothers' Day mum, you remind me of a great big spider, lots of love!
My Mommy Is Beautiful
Art can bring people together, and we thought we would end this blog with a work of art that not only brought people together in appreciation of it and its message, but also one that was created in collaboration with visitors coming together to add their own personal touches to the installation.
Yoko Ono created a 40-foot long art interactive installation, in which she invited people to "Write your memory of your mother and/or paste a photograph of her on the canvas."⁵ The work managed to accumulate more that 20,000 personal memories and messages in only 2 months, and came to be represented as a monument to matriarchy of sorts.⁶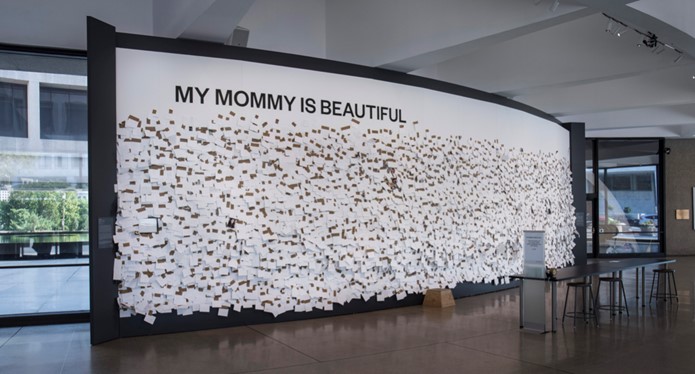 Photo by the Hirshhorn Museum
So happy Mothers' Day! Here's to the mums who are expecting, to the mums inspiring us everyday, to mums that are no longer with us, to mums that don't know what they are doing, mums that know exactly what they are doing, to mums that are scared of spiders. You deserve all the beauty this world has to offer, because without you this world wouldn't be able to create such art and creativity in the first place!
And if you've just stumbled on here and are thinking, crap I didn't send my mum a card! Don't worry it's never too late, why not gift them Poems by Post? The poem which inspired this blog will be released to the world as May's Edition - and what could be more fitting as a Mothers' Day present?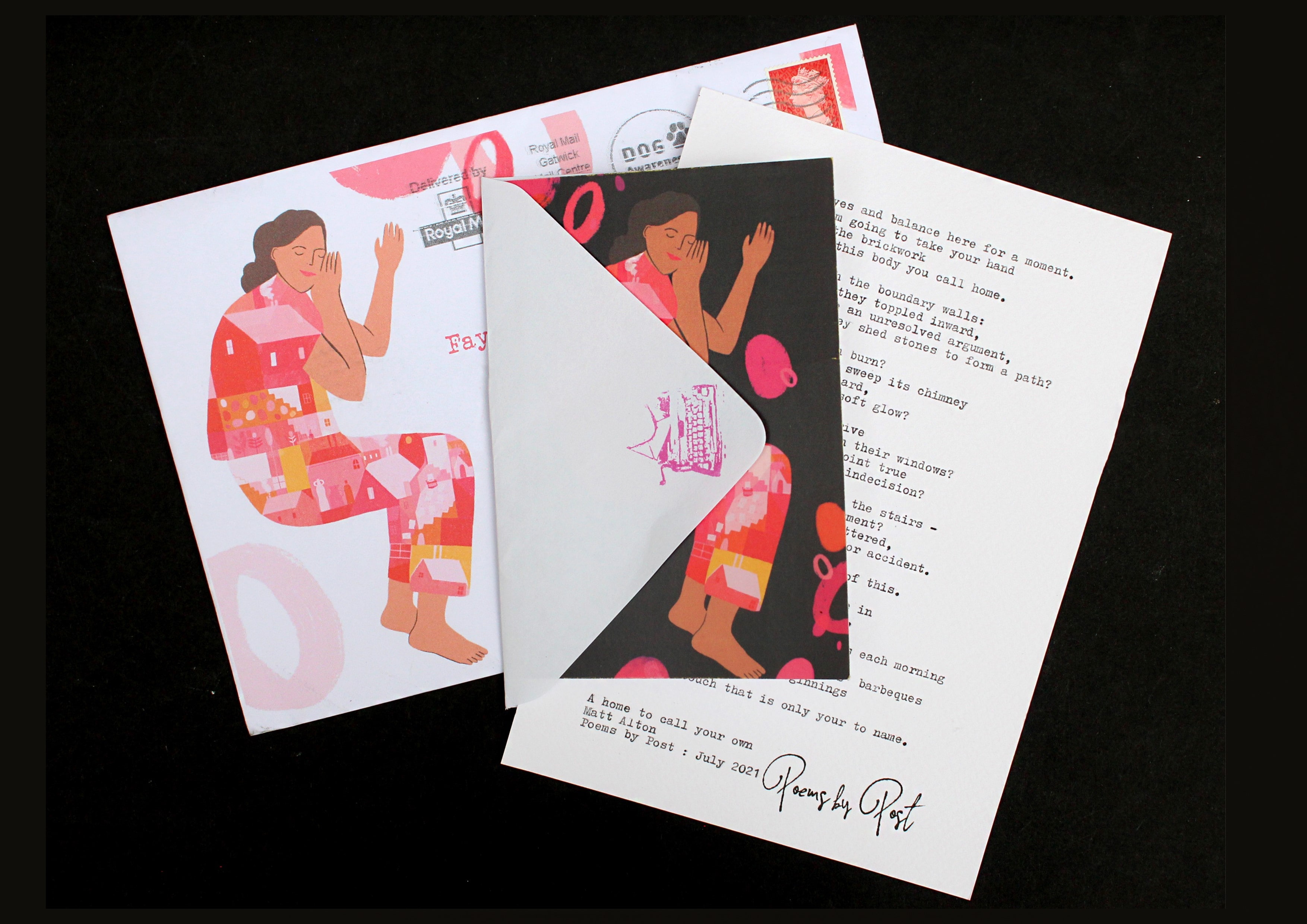 Artwork by Fay Troote and poem by Matt Alton | Poems by Post July 2021 Edition
---
1 Mott, Cynthia (1993). Mother and Child, A Study in Symbolic Imagery. Mountain Scholar. https://mountainscholar.org/bitstream/handle/10217/179711/STUF_1002_Mott_Cynthia_Mother.pdf?sequence=1&isAllowed=y (Accessed: 21/03/22)
2 Macabasco, L, W. (20021). Designing Motherhood: project puts objects shaped by maternity in focus. The Guardian. https://www.theguardian.com/artanddesign/2021/jun/22/designing-motherhood-exhibition-book (Accessed: 21/03/22)
3 Bauer, Denise (1994). "Alice Neel's Female Nudes". Woman's Art Journal. 15 (2): 21–26. doi:10.2307/1358600. ISSN 0270-7993. JSTOR 1358600.
4 Alice Neel [Motion picture on DVD]. 2007. Arts Alliance America
5 Schmitt, E, K, (2017). Hirshhorn visitors fill Yoko Ono's "My Mommy is Beautiful" with intimacy and intensity. Smithsonian Insider. https://insider.si.edu/2017/09/yoko-onos-mommy-beautiful-brings-unfiltered-poignancy-net-media-hirshhorn-lobby/ (Accessed: 22/03/22)
6 Arty-Pedia. (2019). Women Artists Shining Light On Motherhood. The Art Gorgeous. https://theartgorgeous.com/artists-influenced-mothers/ (Accessed: 22/03/22)