How we're supporting artists at Poems by Post
Hello helpline? Yes I need help down here, someone is trying to cut funding to the arts again!
Supporting artists is hugely important. Art asks questions, teaches lessons, expresses emotions, connects us and helps us grow as individuals and as a society. The arts are what set humans apart from the rest of the animal kingdom, (except those fish that make circles in the sand), but on the whole art is a human endeavour. And yet, so many things always seem to stand in the way of us fulfilling a life of artistic pursuit. Perhaps a parent who doesn't see your painting as a "real career", or a school arts program being cut by 50% (looking at you Boris). So it is vital that we fight to keep the arts alive and thriving by supporting artists and sharing their lessons.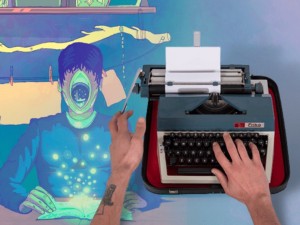 Here at Poems by Post we provide a space for artists to grow, connect, and even get paid! (Wow I know, what a crazy idea).
So I've decided to use today's blog to give you all a little lowdown on how we do things here to make sure creatives are getting all the help we can provide to get their art where they want it to be.
So you can shut up dad, my doodles will be my career one day, I'll show you!
We Commission Artwork!
Our little postal service provides a new poet and artist each month with income and exposure as we put together an envelope stuffed full of creativity for our subscribers all around the world.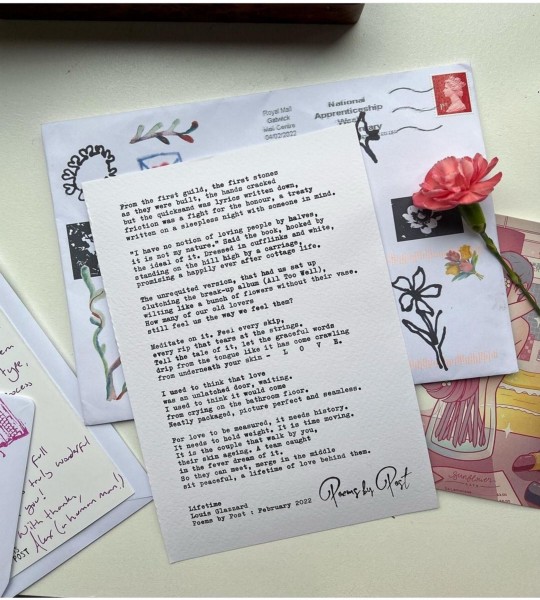 We deliver all this wonderful, newly-commissioned and exclusive artwork directly to art lovers everywhere, and each poet and artist has the opportunity to introduce themselves with a personal message to our community. The poets even record a video recital so you can hear the poem exactly as the author intended when they brought it into the world. And of course, we stay in touch; we like meeting y'all. Aww poet friends.
Mentorship Program
So you've painted a beautifully stunning portrait, but what's next? Creativity is only half of the job if you are looking at supporting the arts. We live in a world of business, and an artist's gotta eat! That is where our mentorship program comes in.
Run on a case by case basis over the phone, we help apply accountability to our artists' work. Together we set goals and then work towards helping you to achieve them. Whether you're a small-time artist looking to paint a massive mural on the side of your neighbours house, or are selling your first piece and are wondering how to go about making an invoice, we help you identify the steps you need to take to realise your creative aspirations.
You may be a self employed artist, but you don't have to be on that journey alone!
The Digital Edition
If you have been so kind (you keen bean) to order yourself a little Poem by Post from us you will have noticed that we have an email newsletter called the Digital Edition. If not, it's sent out every month and I highly recommend you check it out.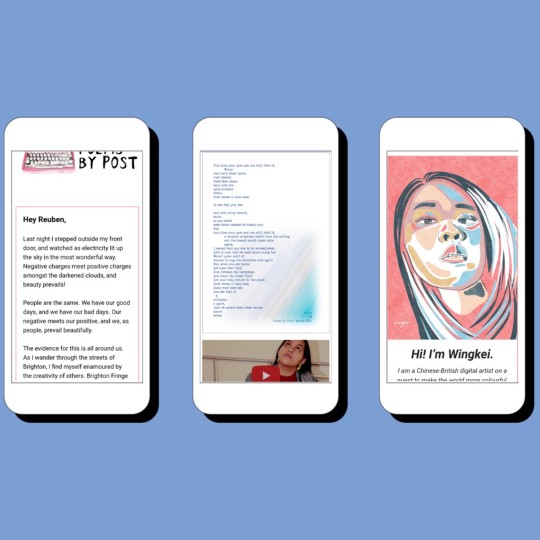 We use it to support artists all around the world by providing them with a space for them to showcase their work. For these creative people it is free advertising, and for our readers it's a bit of poetry here, a beautiful story there, perhaps a song one month…
If there is one thing there isn't enough off out there, it's platforms for artists to show off on, because that would be an impossible number in my eyes. So whoever you are, a ballet dancer, glass blower, woodworker, short story writer, or none of these things but just want to learn more about what creatives are out there, stay in touch!
Where We Are and Where We're Going!
Poems by Post is a small but growing community, and the support we can offer will grow as we do! We will create more paid opportunities for artists every month, and involve as many people as possible in the beautiful collaborations that we facilitate.
We will open up more places on the mentorship programme for artists of all sizes and levels of experience!
In the medium term, we will be launching the Poems by Post Grant, which will provide artists with the resources they need to create the things we all love.
And of course, we will continue to introduce YOU to as many dazzling creative types as possible, hopefully encouraging you to connect with your creativity!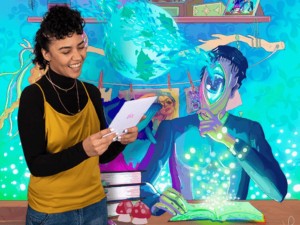 I hope you enjoyed this little spiel on the importance of supporting the arts and how we personally try to do it out of our own little independent business. So please, share your friend's Etsy page on your stories, or buy your mates crochet bucket hats, because with more art in the world, it's a better place.
If you know of any other ways people are supporting independent artists please let us know - we would LOVE to hear about them!
---
Credits:
Background artwork by @jaychronic92
Poem photo: February 2022
Mural by @art.by.wingkei
Photography by Nick Ford