Lifetime
A collaboration between Louis Glazzard, Lauren Bradley & Caitlin Mcloughlin
February 2022

Louis Glazzard
(he/him)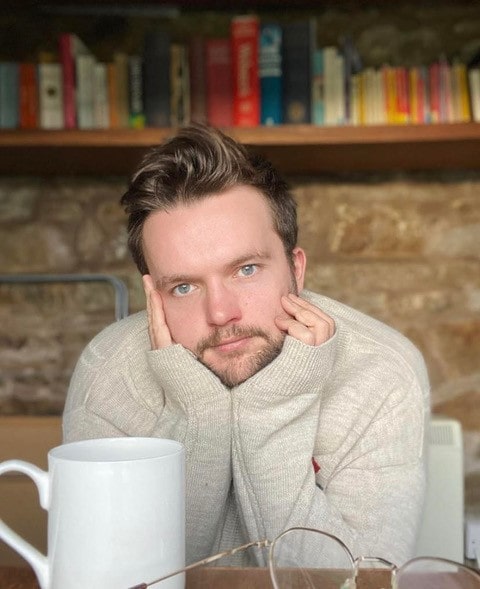 "I'm Louis, a writer and poet from Yorkshire. My work is about many different topics but I use storytelling as in a cathartic way. Last year, I released my first poetry book, Human Men, into the world, which was about masculinity, relationships and technology.
With my poem 'Lifetime' I wanted to speak about all the representations we have of love; whether that's historically, in literature or in pop music. I wanted to say that although we have all these representations of love, that only true love we can work towards comes from a lifetime of understanding and honesty, not as an unrequited or chaotic version.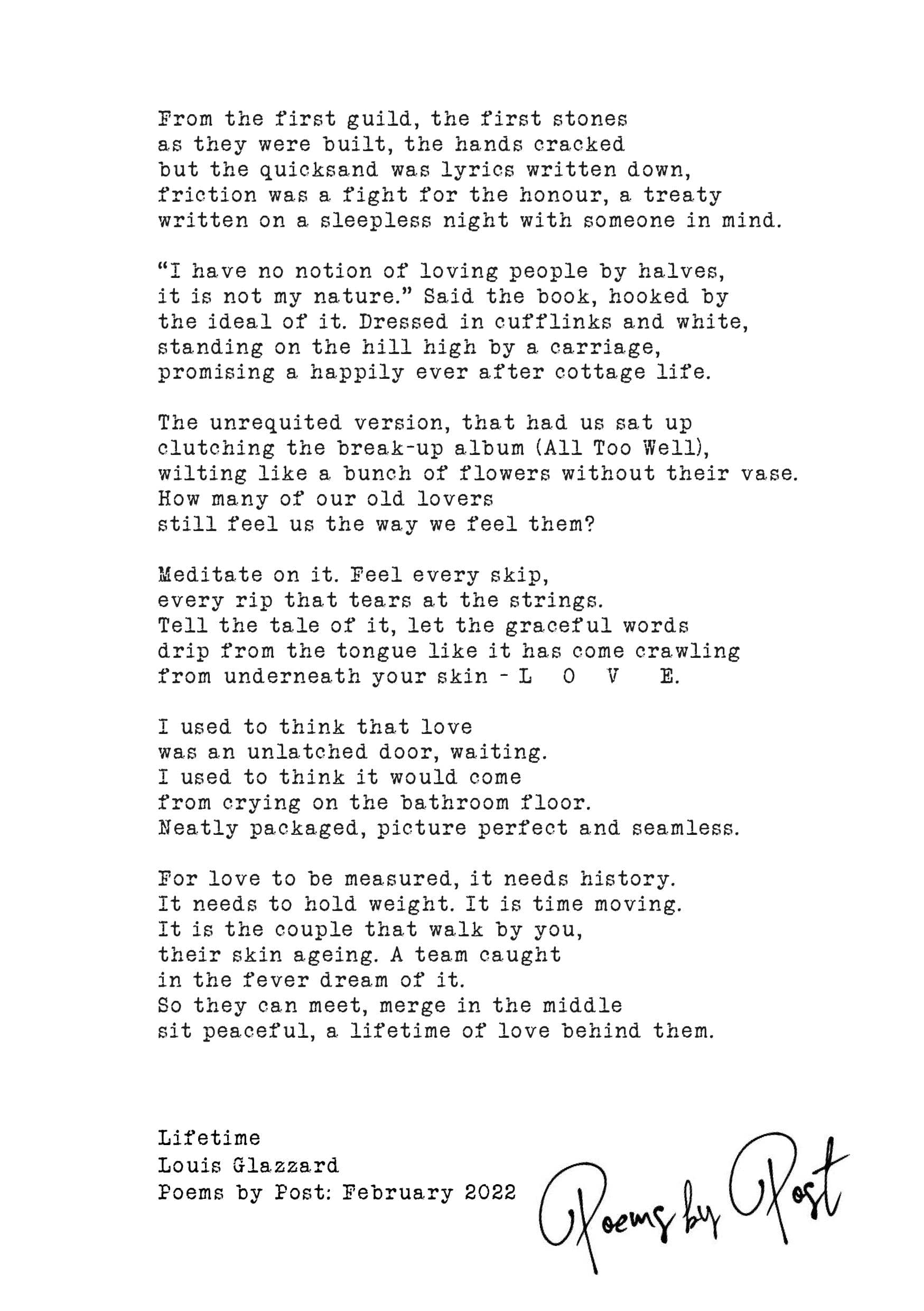 It's about how we can tend to idealise these versions of love but spend less time appreciating the softer, understated versions of it. Like anything else, I believe love is a process and a journey to reach the peaceful repose that many people reach through years of honest conversations and growth together."
---
Lauren Bradley
(she/her)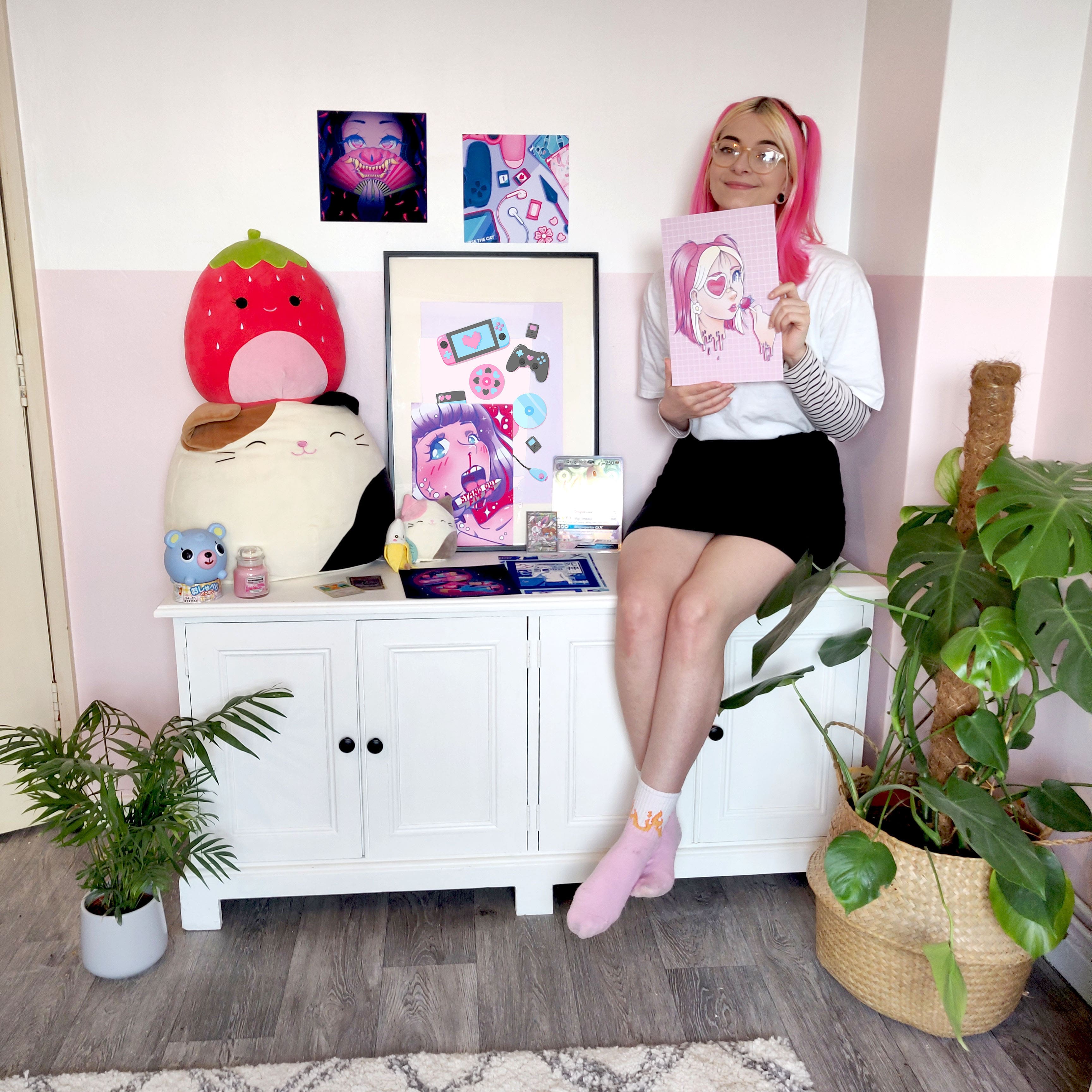 "Hey! My name is Lauren, I am a Sheffield-based illustrator with a strong passion for cute culture and character illustration, drawing inspiration from Japanese culture and sub-cultures. I currently work digitally using an iPad and the Procreate program, but regularly expand into physical work and get creative hands-on.
My biggest inspirations through my life have definitely been games and anime, I've always been a huge geek and I love to incorporate this into my work - even if only in subtle ways.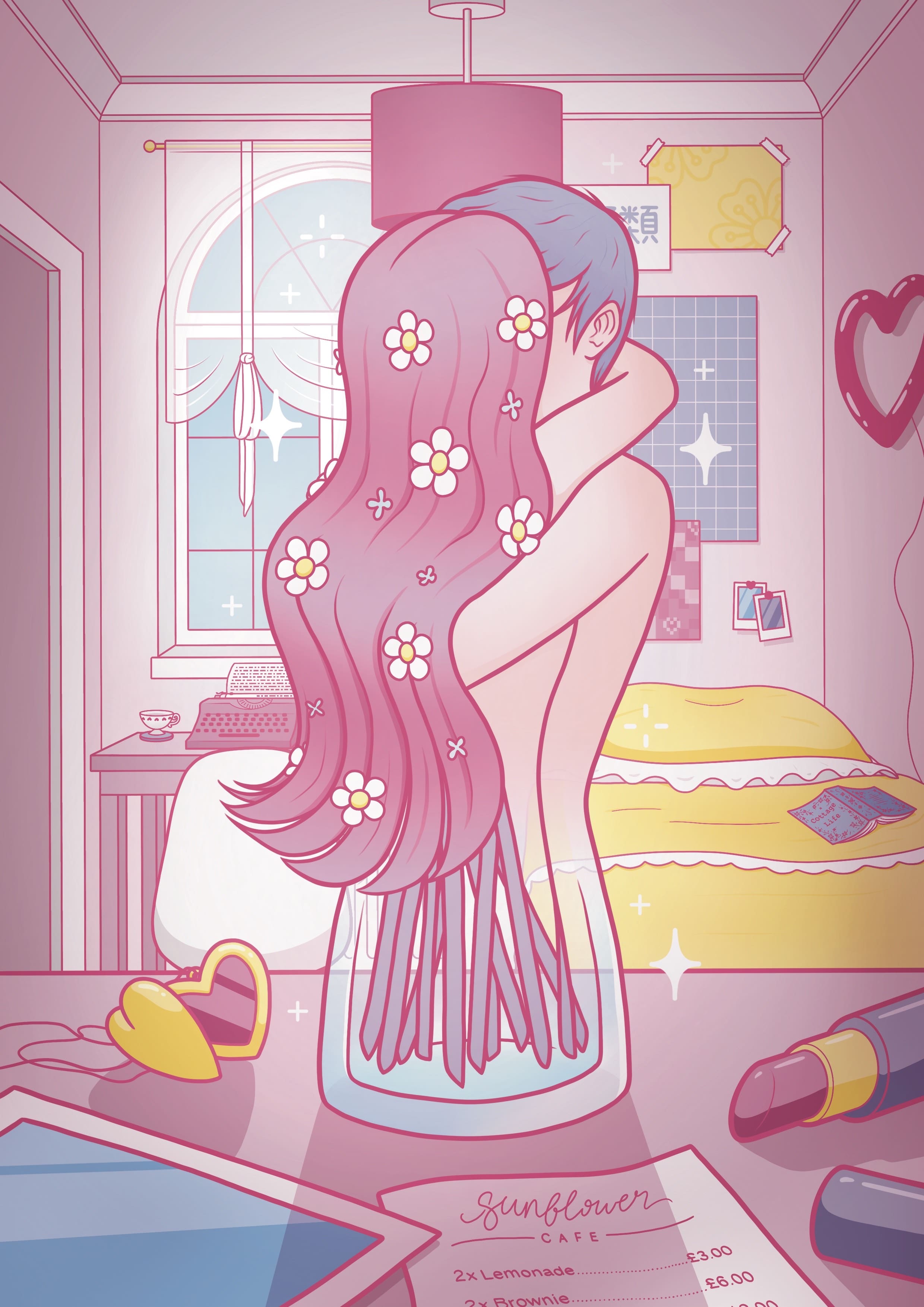 For this illustration I took inspiration particularly from the lines "wilting like a bunch of flowers without their vase" and "So they can meet, merge in the middle". I decided to incorporate these together to represent a couple completely enamoured by each other and lost in the moment. The poem illustrates trying to understand love, so I wanted to represent the naivety and innocence of not yet fully understanding love. I included some small references to the poem and some symbolism, and - as there is in most of my work - a reference to Japan and lots and lots of pink."
---
Caitlin McLoughlin
(she/her)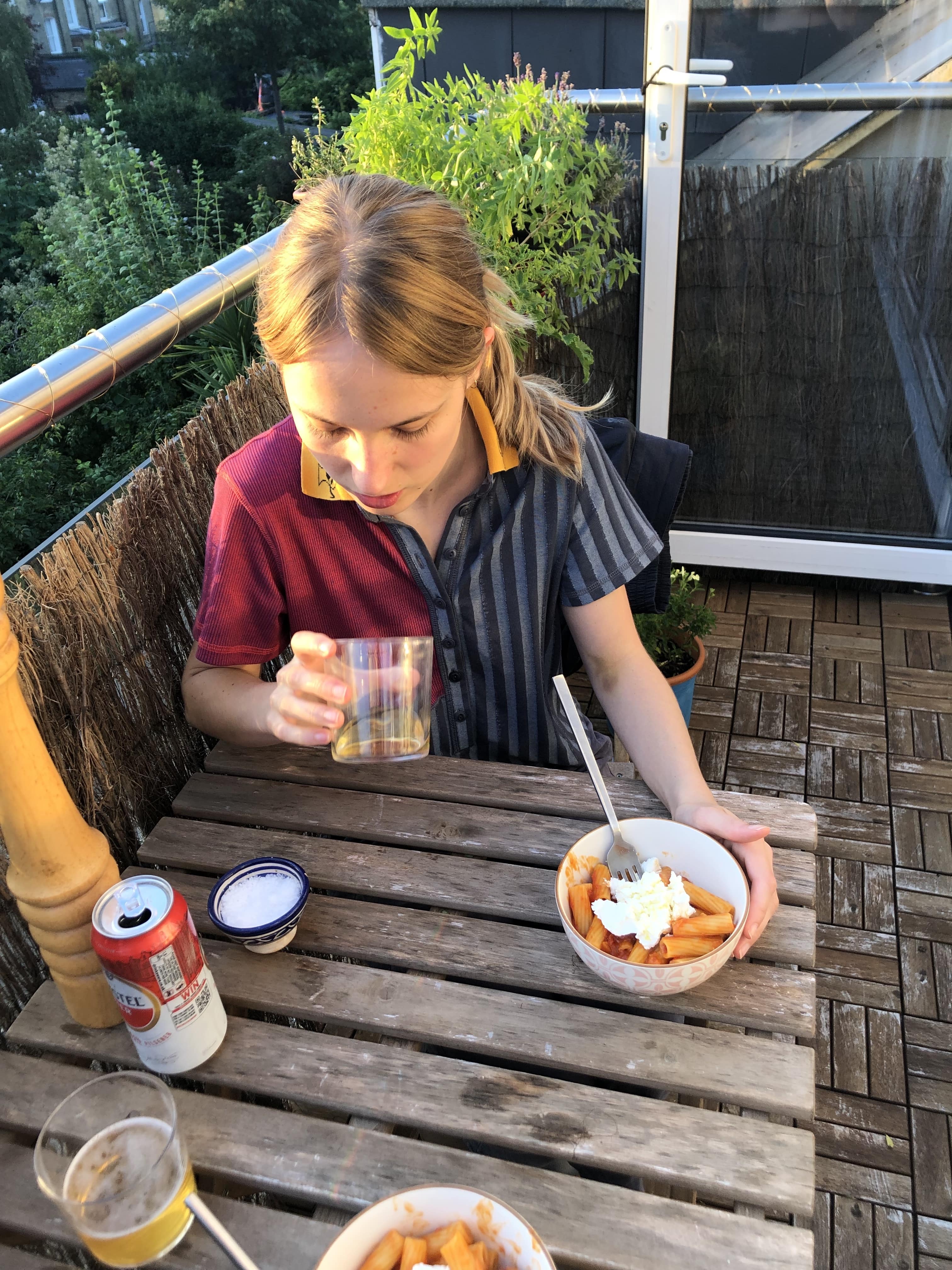 "Hello! I'm Caitlin, I'm an artist and designer from Leeds but now based in London. My practice is centred around a research driven-approach to projects, operating in graphic design, illustration, print and bookmaking. I'm currently setting up a book binding studio with my two best friends and working freelance on book and print based projects, often with poets and writers.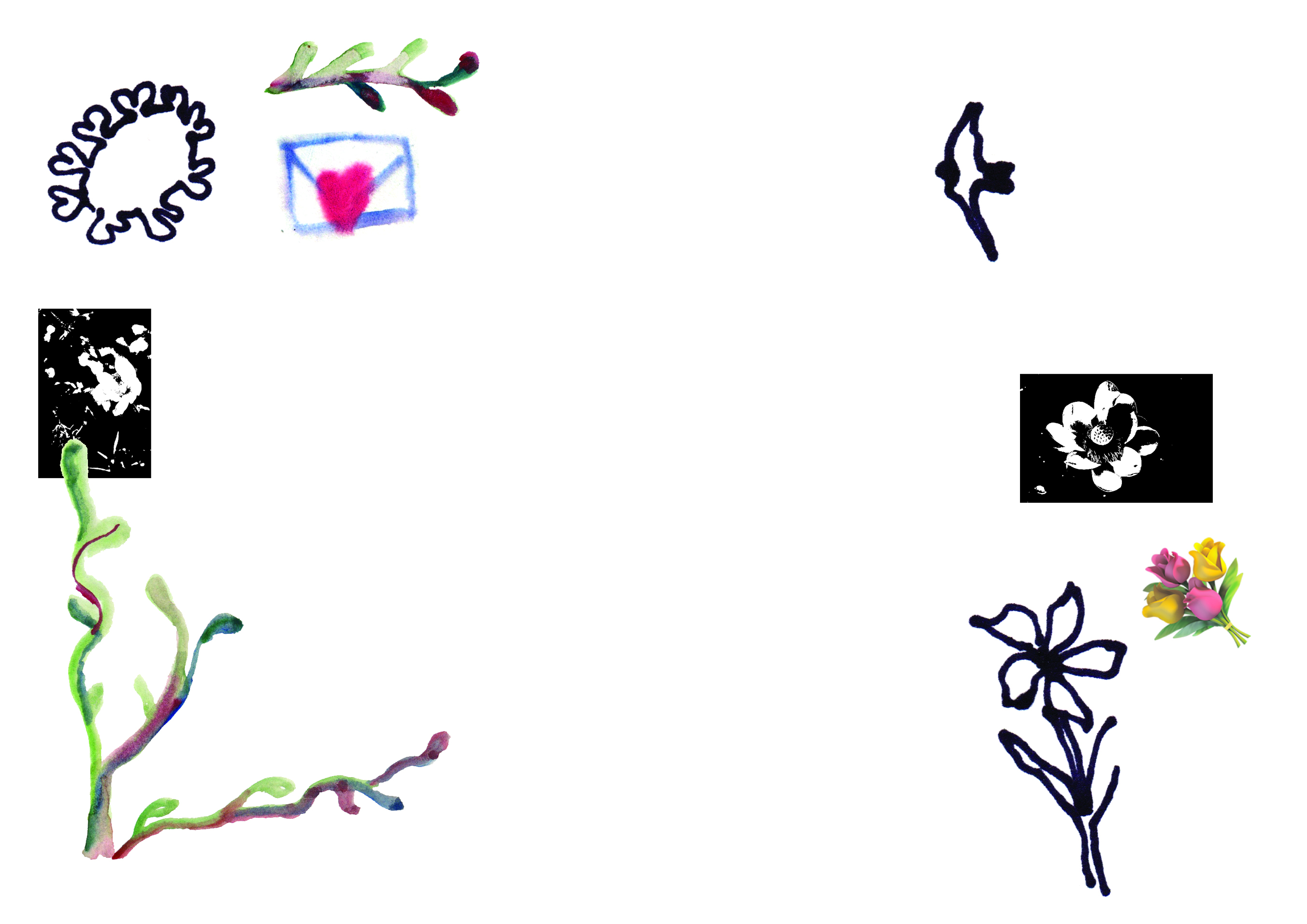 I have worked with Louis Glazzard before to illustrate and design his debut poetry collection Human Men. It's such a pleasure to work with Louis' wonderful poetry again. To me, his poem Lifetime beautifully articulates the strength and simplicity of loving someone. In response to this, my artwork for the Poems by Post envelope is inspired by the small ways we show our love: the notes and gestures that may be seemingly insignificant to someone, but infinitely precious to another. I've used similar processes of gathering and collaging here as I did when illustrating Human Men."
---
Inspired by this collaboration?
Share it with friends using the buttons below!