"Could I be a poet?"
This is a question that frequently finds its way into my inbox. Given that the platform is called Poems by Post, it's a question to be expected!
I have to be honest, whenever I'm asked this my face alights with a smile, as though I'm revered as some sort of modern-day sage, when in reality I'm just a person who enjoys penning rhymes from time to time.
That being said, I am immersed in verse nearly every day, and so I do have a few useful tips for people wanting to begin (or reignite!) their poetic journey.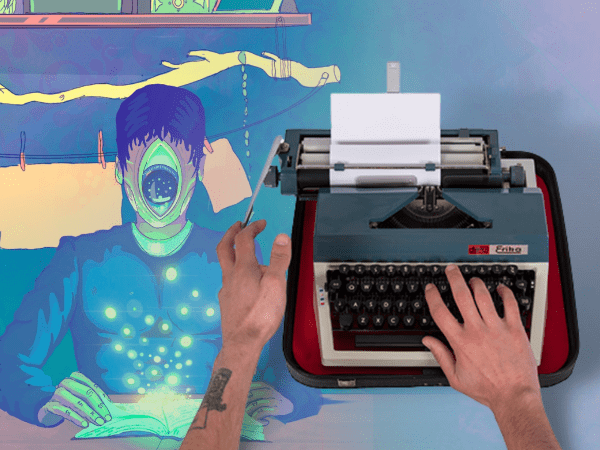 Make time to write, and don't put so much pressure on yourself!
Like anything, great poetry requires practise. It's often assumed that great works of poetry emerge from some sort of divine inspiration. This is simply not true!
Set aside 5-10 minutes a day where you can sit and write away from any distractions. Nobody is expecting you to write the modern day Odyssey, and you shouldn't either. Your only goal in that time is to do nothing but write in that time. If it's great, then great! And if it's awful? Who cares! You've just got in a little poetic practice, and I bet you'll feel good for it!
If inspiration strikes, write it down!
I know, I know - this contradicts everything I've just said!
There are times, I'm sure, when you are struck by an idea so powerful – so inspiring – that you feel excitement rumble through your body in anticipation of executing this momentous thought that's buzzing around in your head…
And then you forget all about it!
The previous tip can be considered training for these moments. Nowadays everybody has a phone in their pocket, and so we all have the ability to take note of our ideas. Write them down, revisit them, and your ideas will quickly turn to action.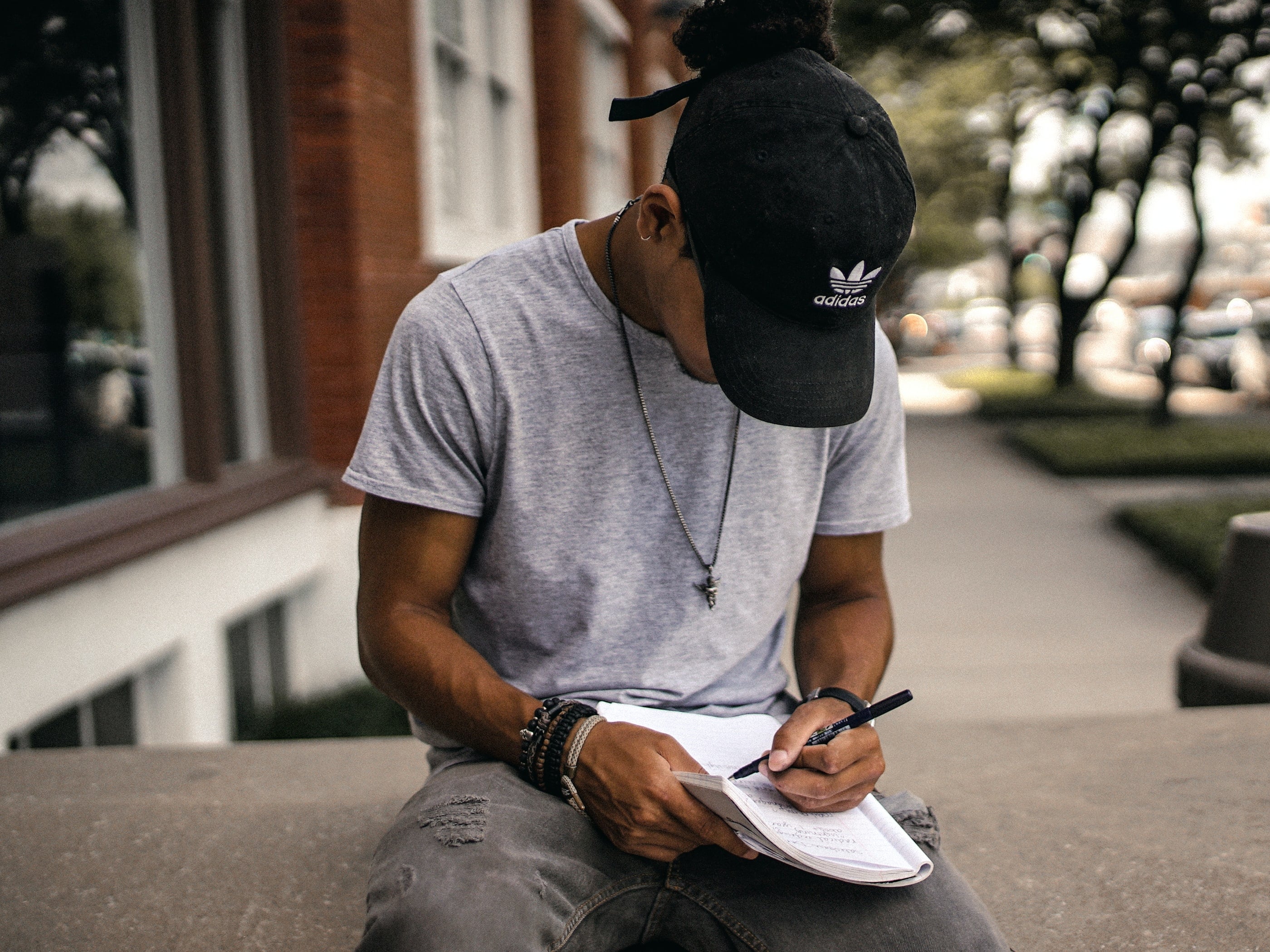 Revisit and rewrite!
I used to have pages and pages of half-finished poems. As a matter of fact, I still do!
A change in time creates a change of perspective, and revisiting things we've written in the past often provides a fresh take.
Keep a folder somewhere of everything that you've written. You may not appreciate it nor think it any good in the moment, but as time passes your feelings will change.
I once read a poem that completely blew me away.
"Blimey", I thought, "who wrote that?".
Turns out it was me, and don't even remember writing it!
Read other people's poetry!
This one's a given. Check out the writing style of other poets and learn what speaks to you.
There's so much good poetry out there, but if you're not quite sure where to get started, might I suggest checking out some of our Past Editions?
If you prefer something a little less… on screen… allow me to shamelessly plug the Poems by Post subscription model!
Discover new poets every single month with a tangible, hand-typed poem posted straight to you! You'll also receive a greetings card designed by an artist in theme with the poem, as well as a QR code that will take you through to a video recital and a little more info on the artists!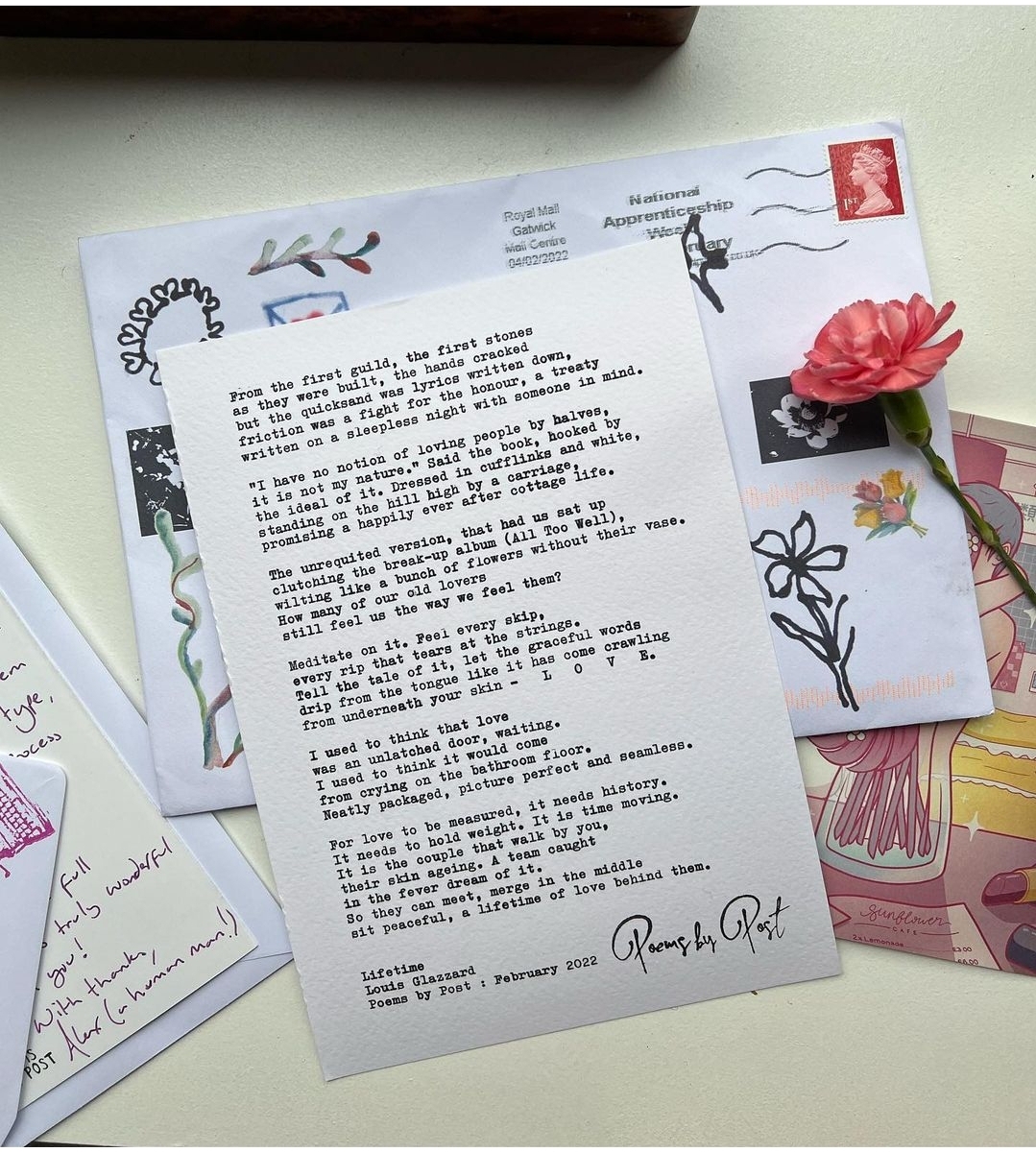 Poems by Post February 2022. Lifetime, by Louis Glazzard
So yes, you can be a poet!
Anybody can be – it's just a matter of doing.
If you're looking for any sort of creative tips and tricks, or if you've simply enjoyed my ramble, sign up to the (mostly) weekly Poems by Post newsletter!
Be amazing,
Alex